Arizona Financial Theatre | Phoenix, Arizona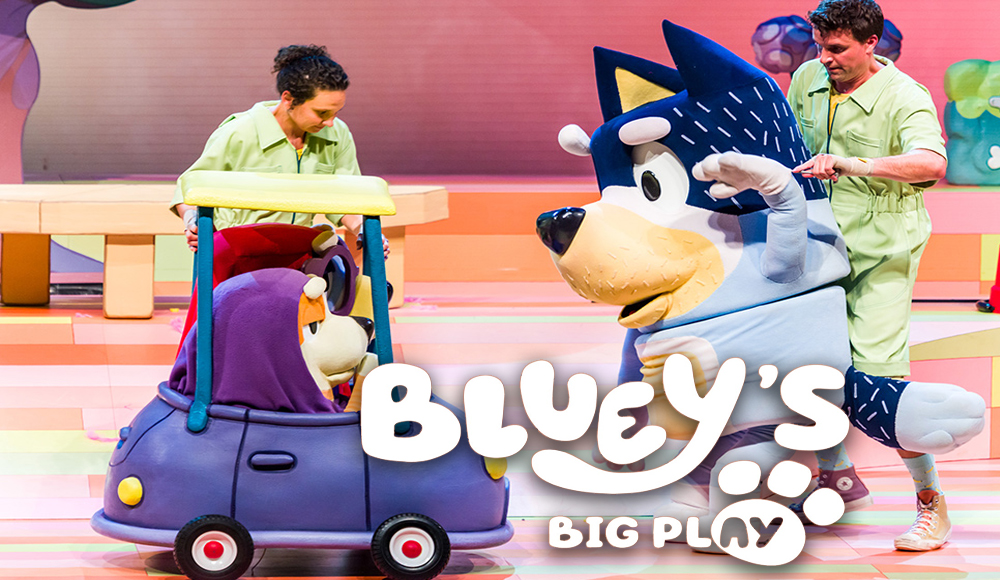 Calling all parents and your little ones! It's time for playtime! The Emmy Award-winning children's animated TV series Bluey is coming to town. Straight from your TV and iPad screens, the cheeky little dog and her family, the Heelers, are inviting their best friends around the globe for an exciting day of singing, dancing, jumping, laughing, and learning new things at Bluey's Big Play. After waves of success in Australia, the Heelers are flying over to North America, including a special stop at Arizona Federal Theatre on Saturday, February 17. The cheeky canine invites her little best friends from across the world to help her out on what they do best - play! Along the way, they'll be learning a bunch of new things, promising a fresh story and new music by Bluey producers. It's not just another live re-enaction of a cartoon, it's a whole new Bluey experience to remember. Book those tickets now!
After massive success in the Heeler's national tour in their home in Australia, with over 400 shows including one at the iconic Sydney Opera House, Bluey's jet-set to meet her international best friends. This time around, her whole family is hopping across North America, looking forward to spending quality playtime with all of her friends - parents included! Bringing the show's unique and touching elements of singing, dancing, joy, and life lessons, Bluey's Big Play is highly acclaimed by critics and parents alike for its educational themes made fun.
The show features a new story made by Bluey creator himself, Joe Brumm, alongside new music from Bluey composer Joff Bush. Yes, it isn't just another ordinary cartoon doing a live meet-n-greet; it's a full-on playtime experience. There's never a dull moment at Bluey's Big Play!
"The Emmy-winning Australian series accurately captures family life, introduces new games and sparks conversations," The Guardian shared in its review of the show. "It also demonstrates how to behave and, more importantly, how to play – for us and for our children."
Not only does your child get to witness their favorite cartoon character spring into life, but they also get the chance to bond with their parents over something that lights them up. It's probably something you don't get to think about often, but Bluey's always been there for the kiddos. We might see it as letting the child enjoy some TV time, but for the kiddos, it's actually moments spent with a teacher and a friend.
"We know how much love there is out there for Bluey and are thrilled and honored to translate these brilliant characters into the three-dimensional world and to share this special experience with fans throughout America," shares Rosemary Myers from Windmill Theatre Co.
"When Dad feels like a little bit of Sunday afternoon time out, Bluey and Bingo have other plans," Bluey's official website shared. "Join them as they pull out all of the games and cleverness at their disposal to get Dad off that bean bag."
Now, they're calling all of you for an exciting time to play a bunch of games - and learn a thing or two along the way. Learning never ends. Bluey's definitely one of the children's early teachers, and the lessons they get from the show continue to impact and shape lives. So, take this chance to hang out and have some fun at Bluey's Big Play by booking your tickets now!