Arizona Financial Theatre | Phoenix, Arizona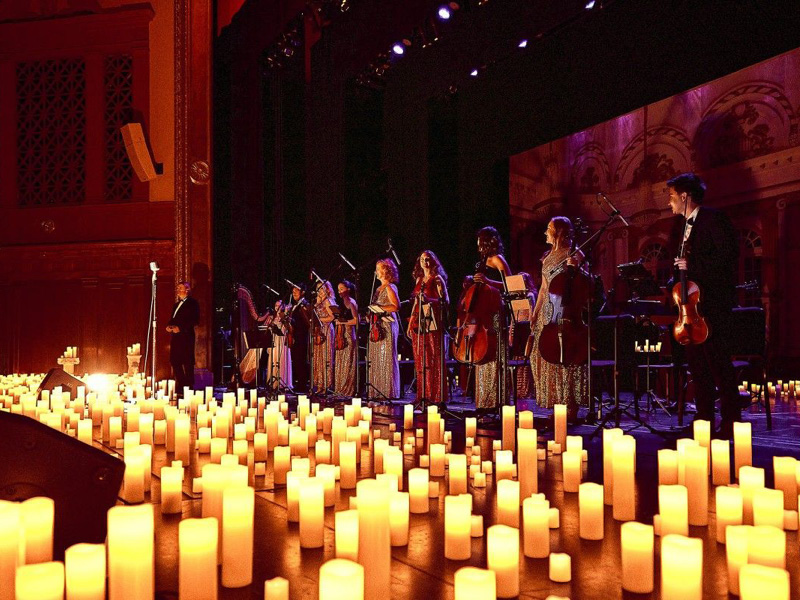 Bringing you an astounding concert with music from composers, Andrew Loyd Webber, Rogers and Hammerstein and more! The world-class musicians of The Vienna Light Orchestra present a spell - binding concert, and a tribute to one of Broadways greatest, The Greatest Showman! This is, A Tribute to The Greatest Showman and more! A show that has been labeled across the globe as "Mesmerizing, transcendent and positively stimulating to the senses" and "The performers amazing and angelic!" Vienna Light Orchestra presents a unique, powerful concert occasion that you and your family will never forget!
Surrounded by a sea of flickering candles, the remarkable artists of The Vienna Light Orchestra, are literally bathed in twinkling lights as they perform from their hearts and touch your hearts at every performance! So, if it's a perfect orchestral performance you are after, then look no further, as this is guaranteed to be a masterclass, featuring world-class musicians and world renown composers. Vienna Light Orchestra - A Tribute to The Greatest Showman comes to Arizona Federal Theatre on Saturday, October 7th 2023, get your tickets right now.
Beginning way back in 1999, The Vienna Light Orchestra has travelled the globe, playing intimate, and stunning shows in cities like Edinburgh, London, Kotor Montenegro, Durres Albania, Costal Rica and Calgary BC. Now they have unleashed a tour of the USA, playing a combination of concerts, a tribute to the music of BROADWAY, the cinematic favorite — THE GREATEST SHOWMAN and more! Magical Movie Scores, plus 15 Christmas concerts in the month of December.
"Founded in 1999, The Vienna Light Orchestra was created as a way to illuminate the world of orchestral music in a new light. Often heralded as the 'capital of orchestral music,' Vienna is a wonderful place for well-established enthusiasts who delight in the copious concerts available, and for those that are new to the genre who want to open their mind and discover the joys of immersing themselves in a dramatic orchestral performance. The Vienna Light Orchestra has youthful, excited, talented musicians who." - Producer, Steven Canyon
Featuring a world-renowned ensemble of vocals, violins and cellos, drawn from all four corners of the globe, and playing so spectacularly together, you will find it hard to believe they are just a "light orchestra." But what really sets them apart is the orchestra's performance's unique visual effects, including a stage decorated with over 2,000 flameless candles. Quite simply, a musical phenomenon like no other, surrounded by over two thousand flickering candles and the melodic sounds they sparkle to, the Vienna Light Orchestra, will make you wish you were in Vienna itself!
"This was an absolutely wonderful experience. We heard many beautiful classics at the beginning of the show with very talented vocalists, and then the orchestra played the entire soundtrack for The Greatest Showman. The show ended with more amazing showcases of talent from the orchestra. It was truly a great show and would definitely see it again!" - by LL on 5/7/23MGM Music Hall at Fenway - Boston
Grab your tickets right now for The Vienna Light Orchestra - A Tribute to The Greatest Showman at Arizona Federal Theatre on Saturday, October 7th 2023. It is a show not to be missed!!!