Arizona Financial Theatre | Phoenix, Arizona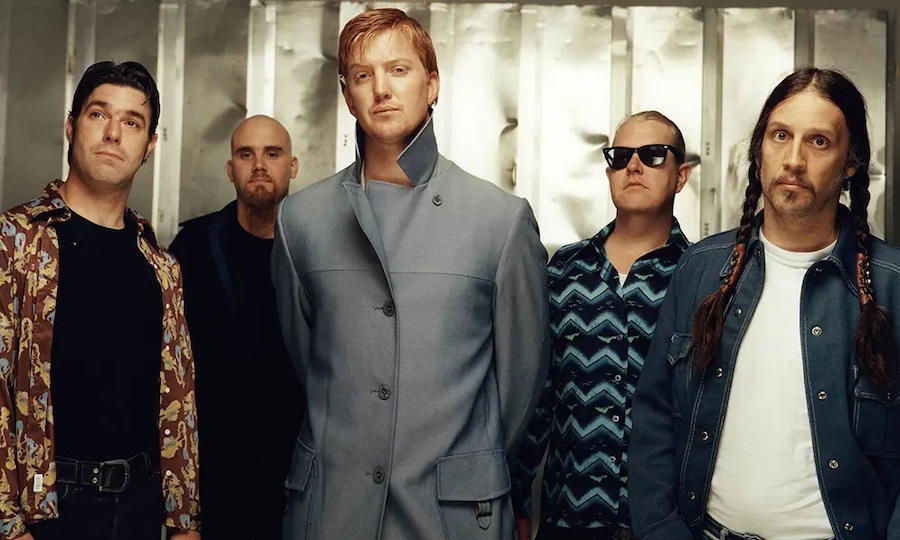 Alright groovy cats, brace yourselves because this is NUTS. Queens Of The Stone Age are dropping by Arizona Financial Theatre in Phoenix for one face-melting night of rock 'n roll on December 5, 2023! Lock that date, cause this is one concert you're gonna wanna snag a ticket to.
If you've ever seen QOTSA live, you'll know that their shows are nothing short of EPIC! It's time to dust off those boogie shoes and get ready to jam to some of the gnarliest tunes ever. We're talking 'No One Knows', 'Go With The Flow', 'Little Sister' - all the wicked classics that'll take you all the way back to the prime of your own wild days.
QOTSA's tour is lighting up like a rocket across the globe, and now it's Phoenix's turn to get blasted into another realm of rock spectacular. Imagine the guitar shredding, wicked bass, killer drums and intense vocals - LIVE. Experiencing it all is like living inside a high-octane, pulse-pounding rock anthem.
Don't miss out on what's guaranteed to be one hell of an evening! These dudes know how to rock and they WON'T STOP until your ears are buzzing and your heart is pumping harder than a double-bass pedal at full speed.
Ready to have your mind blown, Phoenix? Snag a ticket, drag your friends, plug in, and get ready for a total sensory OVERLOAD. This is not just a concert, it's a rite of passage. See you in the pit!
What's up, rock n' roll junkies? Buckle up and paint that Monday, December 5, 2023, in your calendar maroon cause it's gonna be a sizzler! Guess who's hitting the stage again? Yeah, you got it – Queens Of The Stone Age! Oh YES, it's on FIRE!
This time they're quaking the foundations of the Arizona Financial Theatre, in the heart of the Sonoran desert. Phoenix, Arizona, get ready, cause our boys are gonna light up your night harder than the Arizona sun!
Tickets are flyin' off the shelves faster than lightning, and boy, it ain't no wonder! Since their gnarly debut in '98, QOTSA have been cleaning up like a magical rock Hoover, grabbing MTV2 awards and scorching across the charts in countries hotter than a jalapeno.
The Grammy-nominated rock lords are on tour again, blasting through the States, and then wrapping you up in a pulsating cocoon of bone-jarring hits, bouncy riffs, and hypnotic melodies. Pumped yet?
From the swagger-soaked "No One Knows" to the eerie hum of "Like Clockwork," QOTSA's a sonic cyclone, a head-banging delight. This ain't a concert, it's a spiritual rock communion, a night where you forget tomorrow and live in the NOW!
Arizona Financial Theatre is THE place to be. It ain't just a venue, it's an experience. Massive, but intimate. Pumping, yet chill. A jubilant, glowing herd of wild rock-heads under the desert stars. The high-tech lighting and sound systems promise an ANIMATED evening of audiovisual ecstasy.
Located right in the heart of the bustling city, the theatre's reputation is LEGEND. From its jaw-dropping aesthetics to its sizzling atmosphere and kickass amenities, this venue has it ALL. Grab a brewed-cold one, or a flaming-hot eat at their funky food stalls as you get pumped for QOTSA's electrifying set!
So, what are YOU waiting for? Phoenix is heating up, and this is your chance to roll with the stone cool crew! Don't miss your chance to experience the queens in their full glory. CONCERT. TOUR. TICKETS. Are you GETTING this yet?
Grab your ticket NOW! Rock your senses. Let the Queens Of The Stone Age serenade your soul and unchain your inner rock god! You can't put a price on EPIC. Don't sleep, don't eat, don't breathe until you've got your ticket. This ain't a gig you can afford to miss. Be there! A stone-cold night to remember!
You want in? Secure your ticket NOW. Let QOTSA rock your world!