Arizona Financial Theatre | Phoenix, Arizona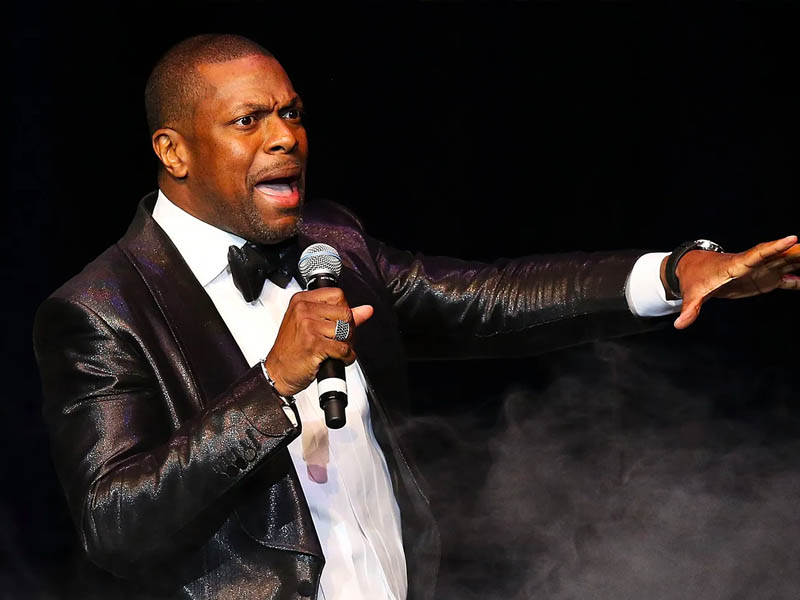 The relentless funnyman who made waves in films like Rush Hour, Friday, and The Fifth Element is returning to the stage this fall! It's been over a decade since he hit the road, but now he's back! Chris Tucker will be bringing The Legend Tour across 30 cities in North America this fall and it will feature all-new material and never-heard-before jokes! The outing includes a coveted stop in Phoenix, Arizona, where Tucker will hold a one-night laugh riot at the Arizona Federal Theatre! Watch out for his hilarious antics, chuckle-inducing facial expressions, and more on Thursday 5th October 2023! Tucker successfully completed stand-up tours many years ago, becoming one of the world's most in-demand stand-up comedians! This 2023, he's back with a vengeance and new material that will surely have you falling off your chair laughing! Score tickets now before you miss out on seeing Chris Tucker at the Arizona Federal Theatre!
There is no denying that comedy comes naturally to Chris Tucker. The actor and comedian has made millions laugh with his performances in films and stand-up specials. He has even famously made the king of pop Michael Jackson laugh hysterically during filming for "You Rock My World," were Tucker made a cameo. Over ten years ago, Chris Tucker circled the globe and made the world laugh with his stand-up tour. One can pretty much say he went out with a bang because it would take the award-winning comedian over a decade to plot another tour. Lucky for stand-up comedy fans, Tucker just announced his 30-date The Legend Tour!
The Legend Tour is anticipated to be one of the most groundbreaking comedy tours of the season. As the critically-acclaimed comedian has not gone on tour for some time, fans are anticipating a plethora of never-heard-before jokes and ridiculous antics. Knowing Tucker, the show is bound to be epic. Tucker's natural ability to be funny on film transcends to the stage. He may be famous for his performances in movies, but the comedian has mentioned that he's in his best element on stage. "Stand-up was my first love, and it is very different from movies," Tucker said during a past interview. "It is more up close and personal. There are no takes on that stage. It also helps me when I do movies by keeping me sharp. A lot of the lines from some of the old movies came because I was sharp with my comedy from doing stand-up." He also added that his love for making people laugh started as early as his teen years. "It started in high school. I was the class clown, and the teacher told me I should enter the talent show." True enough, Tucker has found his calling as a comedian. "I ended up hosting. I would talk about issues around the school, and they would get them fixed. I loved making people laugh from that point."
Now, he's a veteran comedian with millions of fans worldwide. At one point during the Rush Hour Series, Tucker became the highest-paid comedian/actor in Hollywood. Thus, this news of his phenomenal return has comedy fans scrambling for tickets. Lucky for you, you can now score tickets to his show at the Arizona Federal Theatre through the Get Tickets link!